I made a headband holder/organizer for my daughter's MOUNTAIN of headbands. Actually, it was a big ole bucket of headbands. Now, thankfully, that big bucket is gone and we have this cute storage solution to take it's place.
This is what I made:
And here is how I came to this great, crafty, inexpensive awesomeness.
1). When I want something awesome and crafty, I go to Etsy.com and I search for it. Now many times, I support the artists on Etsy, because I don't even know where to start or what to do, but this time, I thought I'd give it a go. For this cuteness, I searched for "headband organizer". Now a zillion crafty things came up, but the Etsy artist
Everlastings by Sue's
cute stuff really caught my eye. Here is a picture of her great work. I love her ribbon bows on the end, but I didn't have any wide ribbon that matched my fabric. Next time, I guess.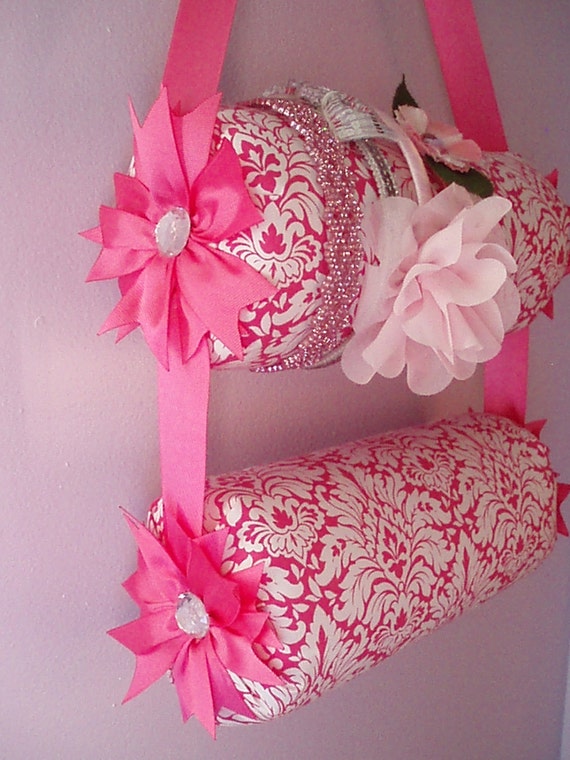 Cute, huh? Now, since I'm trying to use up stuff that I have and I love being crafty, I thought this was my kinda thing. Plus, I gave me a chance to use some of this great mermaid fabric that I caved and bought for Gwen's redecorated room. I'm such a sucker.
One big problem though, I didn't really know the "OFFICIAL" way to make a nice looking bolster pillow. Which leads us to step two.
2). Go to Pinterest.com and look for a good DIY Bolster Pillow Tutorial. Now there are many different DIY's, Tutorials, and links for how to make your very own bolster. I went through a bunch and then BINGO! I found the one that spoke to me the most.
The Bolster Pillow Tutorial I followed was here
.
Take Steps 1 and 2 and put them together.
I ripped out a bolster pillow out of a pillow I had in the basement already and I only had to buy one pillow form. I used some ribbon I already had that matched the mermaid fabric and sewed the ribbons to the gathered ends of the bolsters. I used some flowers that I had gotten dirt cheap last fall on clearance and a little bit of hot glue. I was careful only to get the glue on the fabric and not on the opening to the bolster, so if I want to cut the fabric off the pillow form for another project some day, I can.
Whoopie! I love it so much, I'm gonna share my picture again! I managed to cram about 28 headbands on both holders and it's saving us a ton of room on her dresser.
And if you're not the crafty type, I'd recommend heading over to Etsy and
Everlastings by Sue
and pick one up. The prices are great and she has a ton of fabric and color choices.